FULL CANVAS 5D DIAMOND PAINTING KIT
Each of our Kit comes with all Basic Tools and 40% Extra Diamond Beads to ensure that you have Enough to complete your Projects and More!
Our Kits are also 100% Full-Drill canvas - That means that the Whole Content of your Soon-to-be Masterpiece will be Filled with Sparkling Diamonds! Unlike others shops that only provide Partial content!.
Includes Everything You Need to Get Started!
Premium color coded high quality canvas.
Pair of extra sharp tweezers
Diamond pen tool with grip
Plastic bags for extra diamond storage.
40% Extra Colored Diamond Beads - Separated by Coded Bags
Clear Printed Instructions.
STEP-BY-STEP DIAMOND PAINTING INSTRUCTIONS
Remove all items from the package
Lay out the canvas on a clean, flat surface
Choose a single color diamond to get started with
Place the diamonds in the included grooved tray for easy picking
Dip the tip of the applicator in the wax. This will help you pick up the diamonds.
Note: some kits come with wax. Others come with tweezers - your choice!
Press the tip of the applicator tool on the rounded side of the diamond
Peel back the plastic film and carefully press the diamond onto its corresponding symbol
Repeat the process until you're done!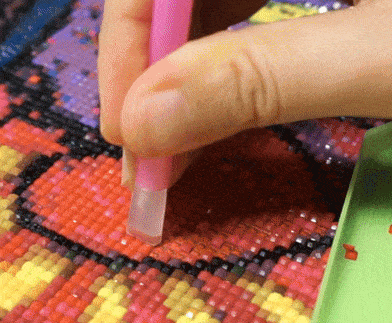 Our Guarantee


Buy With Confidence
We truly believe in having an exceptional customer experience. All our products are backed by a 30 day money back guarantee! That means that if you are not 100% satisfied with your order we will issue a full refund. Terms and conditions apply. 
Please email us at support@legendarydiy.com at anytime if you need assistance and one of our team members will respond within 24 hours.